Stay tuned to sign up for Spring 2023 Concessions!
The SHS Booster Club needs volunteers to help in the Main Concession Stand for Spring 2023 during track, soccer and lacrosse sporting events.
The proceeds from the concession sales go directly to the SHS Booster Club and that money is used to help fund academic as well as athletic requests made by teachers and coaches.  Your help is appreciated!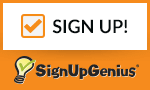 Thank you!
Concessions Team:  Melissa Prowse, Darlene Morris, Viola Nazzal, Julie Lustig (Spartan Zone)